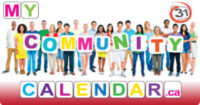 MyCommunityCalendar.ca is owned and operated by the non profit Seniors Information Centre of Moncton and is a service provided by volunteers. 100% of all proceeds from advertising go to our nonprofit to manage this site and raise funds.   A listing in our calendar for an event or a recurring activity is FREE.
So many are trying to find things to do in greater Moncton. Our site is listed on the first page results in the top search engines when you look for "events in Greater Moncton" and "things to do in Greater Moncton" for example. That is very impressive and brings a lot of traffic to our site.
We have over 20,000 visitors monthly and they view over 32,000 event pages on our site. We average over 1200 event and activity listings every month. That's a very active and useful site. We also advertise our site in our quarterly Primetime magazine to over 60,000 readers in southeastern NB as well as our web site. Over 97% of our visitors are from Canada and over 83% of them are from the Greater Moncton area. You can also add, for just 75$ per month, a side bar display ad to promote your company or event to every visitor!
Our volunteers list  local events and activities in both French and English in our communities each month. Our non profit, the Seniors Information Centre, does this for you and others at no charge to simply help our community be more active, interesting and inclusive.
We are like no other calendar. A visitor to our calendar can filter our event listings by category type, community and even by age group. MyCommunityCalendar.ca is very intuitive, easy to use and of great value for those trying to find specific events and activities of interest; a parent/visitor looking for activities to involve their children, a senior looking for health and wellness activities, a tourist looking for nightly entertainment, those looking for festivals, and so many others with specific interests that can select even more interest categories on our site before deciding on what to attend.  Event and activity organizers simply use our  "Post Your Event" form found in the GREEN box on the homepage of our site.  You then can fill out the form and post that event, after we approve it, directly to your Facebook page for even more marketing of your event. Please pass this information on to your friends and any others you feel it could also help with their event or activity in Greater Moncton and surrounding communities.
In addition to promoting your events and activities, we can also help by highlighting your event or your company in a display ad to every viewer of our site.  Even though this is a purchase with great value at $75 per month, it's good to know that 100% of all proceeds go to charity! Should you have any questions or would like to become involved to help us with our calendar, please don't hesitate to contact us. We thank you in advance for your help to make our communities a much more enjoyable and active place to live and visit.
All event and activity suppliers in southeastern have one thing in common – they all share the same customer. MyCommunityCalendar.ca provides a better chance of reaching that customer by having all the events and activities listed in one place.
This project by the Seniors Information Centre volunteers and staff was made possible by the enthusiastic co-operation of many community partners.